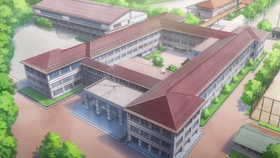 Kazemai High School
(

風舞高校

,

Kazemai Koukou

?

)
is a public high school attended by the main characters of the series.
Students and Staff
Edit
Teachers
Edit
First-Year Students
Edit
Uniforms
Edit
The boys' uniform is the traditional gakuran with a black button-up top and standing collar, white collared shirt, black pants, and shoes of the student's own choice. The girls wear the sailor fuku style uniform, consisting of a gray top with a dark green sailor collar, a blue scarf and a knee-length dark green pleated skirt. All the students use an over-the-shoulder blue book bag.
For kyudo, both boys and girls wear white kyudogi and black hakama for practice, and wear white kyudogi with the school's name embroidered on the left sleeve in competitions.
Kyudo Club
Edit
The school's kyudo club had been on the verge of disbandment until the principal ordered Tomio Morioka to restore it. Morioka restored the school's kyudojo with the help of volunteers during the spring break before the new school started, and managed to recruit Seiya Takehaya and Ryohei Yamanouchi on the first day of school. Nanao Kisaragi, Kaito Onogi, Rika Seo, Noa Shiragiku, and Yuna Hanazawa joined later at a kyudo information session.
Due to Morioka's back problems from old age, he could not demonstrate shooting techniques easily, so Masaki Takigawa, a fifth dan in kyudo, was brought in to coach the club.
The school does not belong any particular school of kyudo, but it uses the reishakei (modern form of shooting) system.[1]
| Name | Position |
| --- | --- |
| Masaki Takigawa | Coach |
| Tomio Morioka | Advisor |
Boys' Team
Edit
| Name | Position |
| --- | --- |
| Seiya Takehaya | Club President/Team Captain |
| Minato Narumiya | Member |
| Ryohei Yamanouchi | Member |
| Nanao Kisaragi | Member |
| Kaito Onogi | Member |
Girls' Team
Edit
| Name | Position |
| --- | --- |
| Rika Seo | Team Captain |
| Noa Shiragiku | Member |
| Yuuna Hanazawa | Member |
Competition Record
Edit
Prefectural Tournament Qualifiers
Edit
References
Edit